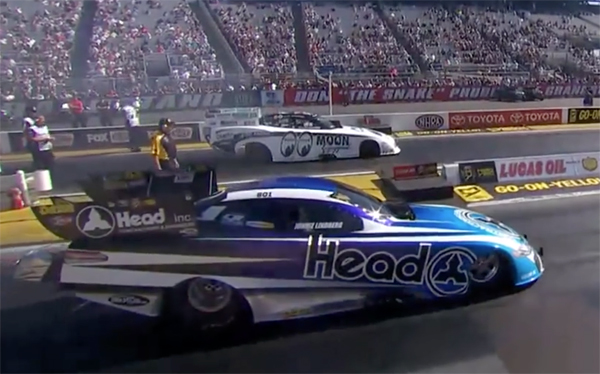 This weekend we're in Pomona for the season opening Winternationals. In the first qualification round Jonnie had Jim Campbell on his left side. Jim got problems right from the start and had to step of the throttle. But Jonnie he stormed nice and safely down the track.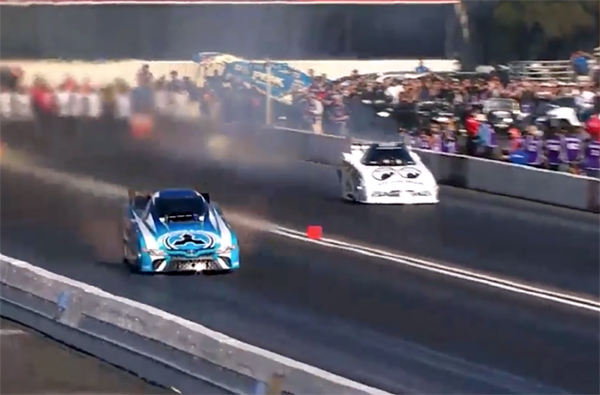 A nice first pass for the season. Reaction time=0.215 sec, 60 feet=0.889 sec, ET=3.954 and 322.58mph/ 519,14kph.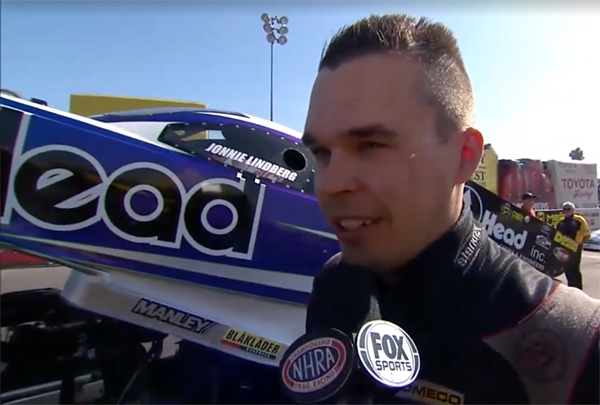 —We just made an A to B run. Got a Racepak-draft to work on, Jonnie says right after qualification round one. Unfortunately Jonnie lost traction in Q2, and wasn't able to improve. He ended up number 11 after the second round.
Results after Q2 NHRA Winternationals at Pomona 2018
1 Jack Beckman               3.860    332.84
2 Matt Hagan                   3.877    329.99
3 Ron Capps                     3.882    331.12
4 Robert Hight                   3.889    332.59
5 Cruz Pedregon              3.924    326.48
6 Tommy Johnson            3.932    320.36
7 Del Worsham                 3.943    320.97
8 Courtney Force             3.948    328.94
9 Shawn Langdon            3.949    328.06
10 J.R. Todd                      3.953    322.04
11 Jonnie Lindberg          3.954    322.58
12 J.R. Todd                      3.961    319.29
13 Robert Tasca                3.984    321.04
14 Tim Wilkerson              4.046    310.27
15 Jeff Diehl                      4.059    313.58
16 James Campbell         4.13    307.16
----------------- not qualified -------------------
17 John Force                   4.139    265.38
18 Richard Townsend       4.242    258.91
19 Bob Bode                      4.828    167.91
20 Brandon Welch             7.21    66.45