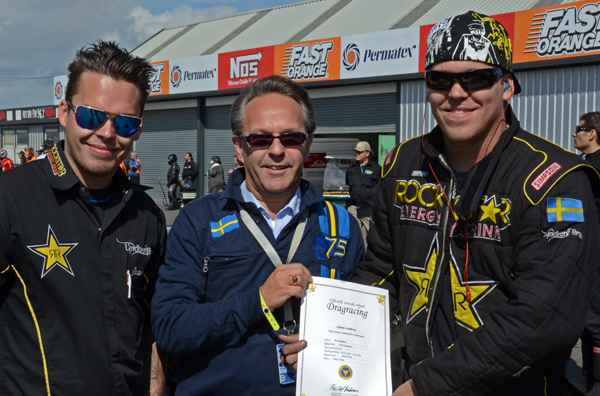 We ended up as number three in the European Championship 2011. We're not perfectly happy about that, but the competition has been really hard and we have struggled with lot's of technical problems. So a third place maybe isn't that bad after all.
Another thing on the other hand that we're really happy about, is that we are the fastest team in Europe with our backed up 5,922-run at Tierp Arena in the end of July. Here you see Lars Pettersson from the Swedish Automobile Sports Federation handing over the record certificate to us during the finals in England.
The funny thing is that this is a official Swedish record only... A record that right now is better that the reigning European record! A European record need to be beaten during one of the championship races. Before the building of the Tierp Arena this never was a problem!
The top 10 out of 41 participating in the European Pro Mod Championship 2011
Points

1 Michael Gullqvist, Sweden       413
2 Bruno Bader, Switzerland        352
3 Johan Lindberg, Sweden          331
4 Marc Meihuizen, Netherlands     310
5 Mats Eriksson, Sweden           297
6 Urban Johansson, Sweden         288
7 Andy Robinson, Great Britain    204
8 Adam Flamholc, Sweden           177
9 Robert Joosten, Netherlands     138
10 Jan Gunnarsson, Sweden         117